Investors
Overview
Trulieve is the first and leading medical cannabis company in the state of Florida, the third most populous state in the United States. Its vertically-integrated "seed-to-sale" operation has approximately 48% of the Florida market. Trulieve boasts over 700+ SKUs and is constantly adding new, fresh, and exciting items to its product line. Its widespread dispensary network and large delivery fleet provides important, much-needed access to thousands of patients every day throughout the state of Florida. Trulieve is committed to growing its dispensary footprint in the state, constantly identifying new locations that will bring Trulieve closer to patients, allowing many more people to have easier access to the medicine they need. The Company has 85 stores in Florida, and 90 nationwide, with more growth ahead. Strong financial performance, driven by sales to a loyal and dedicated group of patients affectionately called Trulievers, positions the company's commitment to continue its pattern of growth.
Read more
As the company continues to expand as an Multi-State Operator (MSO) in our hub model, we are broadening our support into new states including Massachusetts, Connecticut, and Pennsylvania, and West Virginia in the northeast hub. In addition, Trulieve's recent news of acquiring Harvest Health (May 2021) will add several additional states, expanding our footprint in the northeast, southeast and adding a southwest hub. By delivering strong financial discipline, building a recognized brand through optimal customer experiences, and executing on our hub model strategy, we have become an industry leading MSO holding licenses to operate in Florida, California, Massachusetts, Pennsylvania, Connecticut, and West Virginia.
Finally, Trulieve is actively expanding outside the state of Florida with purchases of licenses in California, Massachusetts, and a dispensary in Connecticut in 2019. The Company accelerated its presence as a Multi-State Operator in 2020 with the purchase of two Pennsylvania companies including a premier cultivation and production company, as well as three dispensaries. Trulieve also announced that it has been awarded a processor permit in West Virginia, giving a presence in six states and continuing its national expansion strategy in 2021.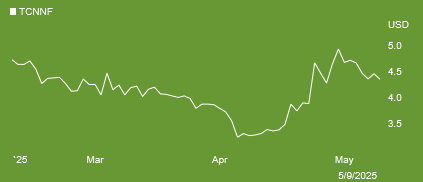 Data Provided by Refinitiv. Minimum 15 minutes delayed.
Featured Videos
Benzinga Cannabis Capital Conference: The Evolving US Cannabis Landscape with Trulieve
Trulieve Reports Record First Quarter Revenue: Kim Rivers CEO on Cheddar
Trulieve CEO on $2.1B Harvest Health Acquisition
Kim Rivers, Trulieve CEO with CNBC's Melissa Lee and the Fast Money traders
The Cannabis Investor Series Ep 1: Investing in American Cannabis
Yahoo Finance Live 420 panel with Kim Rivers, Trulieve CEO
Trulieve CEO Kim Rivers Doesn't Need Debt to Grow
CNBC Mad Money: Trulieve CEO discusses budding U.S. marijuana market
Trulieve CEO Kim Rivers on the company's record quarter
Trulieve CEO Kim Rivers Talks Expansion Plans, Marijuana Legalization on Cheddar TV
Trulieve Expands US Cannabis Footprint: Interview with CEO Kim Rivers (TRUL, TCNNF)