Investors
Overview
Trulieve is the first and leading medical cannabis company in the state of Florida, the third most populous state in the United States. Its vertically-integrated "seed-to-sale" operation has approximately 51% of the Florida market. Trulieve boasts over 501+ SKUs and is constantly adding new, fresh, and exciting items to its product line. Its widespread dispensary network and large delivery fleet provides important, much-needed access to thousands of patients every day throughout the state. Trulieve is committed to growing its dispensary footprint in the state, constantly identifying new locations that will bring Trulieve closer to patients, allowing many more people to have easier access to the medicine they need. The Company has 55 stores in Florida, and 57 nationwide,  with more growth ahead. Its first mover advantage in the state provides numerous benefits, including brand recognition and media attention. Strong financial performance, driven by sales to a loyal and dedicated group of patients affectionately called Trulievers, positions the company's commitment to continue its pattern of growth.
Read more
Finally, Trulieve is actively expanding outside the state of Florida. The company has already announced purchases of licenses in California, Massachusetts and a dispensary in Connecticut in 2019 and plans to continue its national expansion strategy in 2020.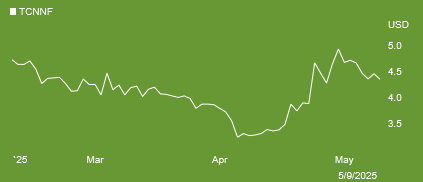 Data Provided by Refinitiv. Minimum 15 minutes delayed.
Featured Videos
CNBC Fast Money: Dispensary Trulieve Soars After Earnings
Trulieve Cannabis Soars While Competitors Stumble in Covid Economy
Trulieve CEO Kim Rivers Talks Cannabis and Covid